OUR OBJECTIVE:
Preservation of handmade textiles and rugs.
To maintain or increase their aesthetic and financial value.

To increase personal appreciation and enjoyment.

To protect them for future generations.
YOUR AREA RUGS NEED SPECIAL ATTENTION
Area rugs should NOT get the same treatment as your wall-to-wall carpet!
Many area rugs such as fine oriental rugs are very costly and are made from fragile natural fibers, dyes and foundation materials that cannot be cleaned in the way we usually clean synthetic carpets (such as nylon, olefin and polyester).
Most professional carpet cleaning systems involve the use of high heat, high water pressure, extreme agitation and intense chemical activity. Most area rugs CANNOT be cleaned using these tactics. A more gentle ᮤ washingಯcess must be used to safely clean area rugs.
Because more time is involved in hand washing and more complex cleaning products must be utilized to avoid damaging the fibers and dyes, you would expect that area rug cleaning would be more costly than standard carpet cleaning. It is.
WHY AREA RUGS ARE MORE DIFFICULT TO CLEAN
Because of the dense pile construction of area rugs, dirt particles work their way down through the fibers - to the backing foundation of the rug where they cannot be removed by ordinary vacuuming.
This loose grit wreaks havoc on your rugथlicate fibers, causing a cutting abrasive action as you walk on the rug. Abrasion accounts for fiber loss (wear) and embedded soil stains.
Other types of soil including food particles and pet oils 餥鮠the dense pile, making your rugs an ideal haven for germs, bacteria, and other nasty creatures such as dust mites!
Dust mites are too small to be seen but are the most common cause of year-round allergy and asthma. They live in mattresses, pillows, carpets, rugs, furniture, bedcovers, and clothes ᮹where they can feed on dead flakes of human skin.
All foreign pollutants in your rugs should be removed by professional cleaning on a regular basis to keep your rugs 塬thy쯦ont>
We use a thorough high-volume clear water rinse extraction process. You see, the amount of water used to clean area rugs is directly proportional to the amount of soil removed in the rinsing process.
Oriental Rug Cleaning
Weather an antique or a new carpet, the washing process is the same. But the technique will definitively differ. An antique carpet being much more fragile than a new one the tools of the process are softer not to damage the fabric.
The first and most important step in cleaning a carpet is DUSTING it. One can clean the surface to perfection, but unless it is well dusted once dry the dirt imbedded in the pile of the carpet will resurface.
DUSTING: Once the pre-cleaning inspection is complete and the cleaning proceeds, the first step is dusting. Some rugs can hold up to one pound of dirt per square foot before it will ﯫ䩲ty. Dusting is an important first step to the cleaning process. This is performed with a vacuum cleaner to ﯳen䨥 dirt out of the foundation of your rug.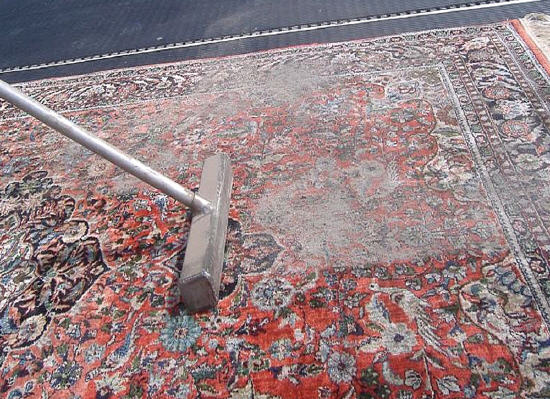 After dusting comes the application of Soaps. We recommend and use only natural soaps that are chemical and enzyme free. This will preserve the luster, and condition the wool while preserving the colors.
As I mentioned earlier, the wash process is the same but the application technique differs from cleaning a new and an antique carpet.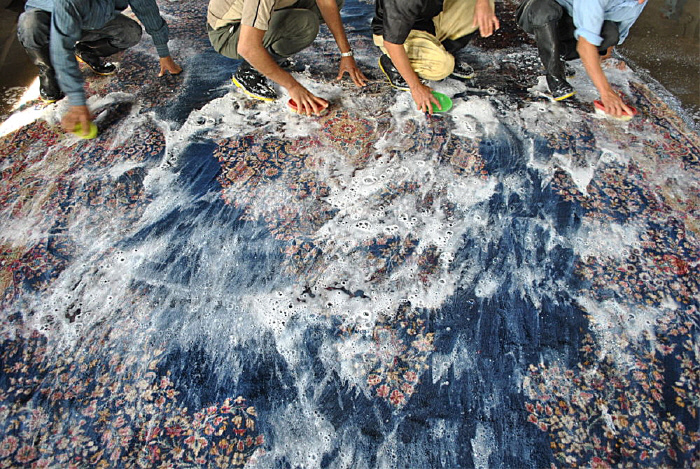 Top: The application of soap on an antique carpet is done by hand while scrubbing the soap directly on the carpet in a circular motion.
Finally after a thorough rinse, the carpet is scrapped flat with the pile so it to preserve its direction, and is sun dried face down to preserve the colors.
Repair and Restoration
. Our skilled master weavers with years of experience in weaving and resorting fine rugs will repair your hand woven rugs to their original condition. to learn more click on restoration Restoration
Appraisals
Bring your rugs) to the store and we will give you a free verbal appraisal.

There will be charges for written appraisals.
Padding
Exchange
Trade
To learn more About taking care of your rug Click On Rug care
Important Information about Oriental Rugs